Help your patients add extra hydration and citrate to their diet with LithoLyte.
Introducing LithoLyte. Non-prescription citrate for any beverage.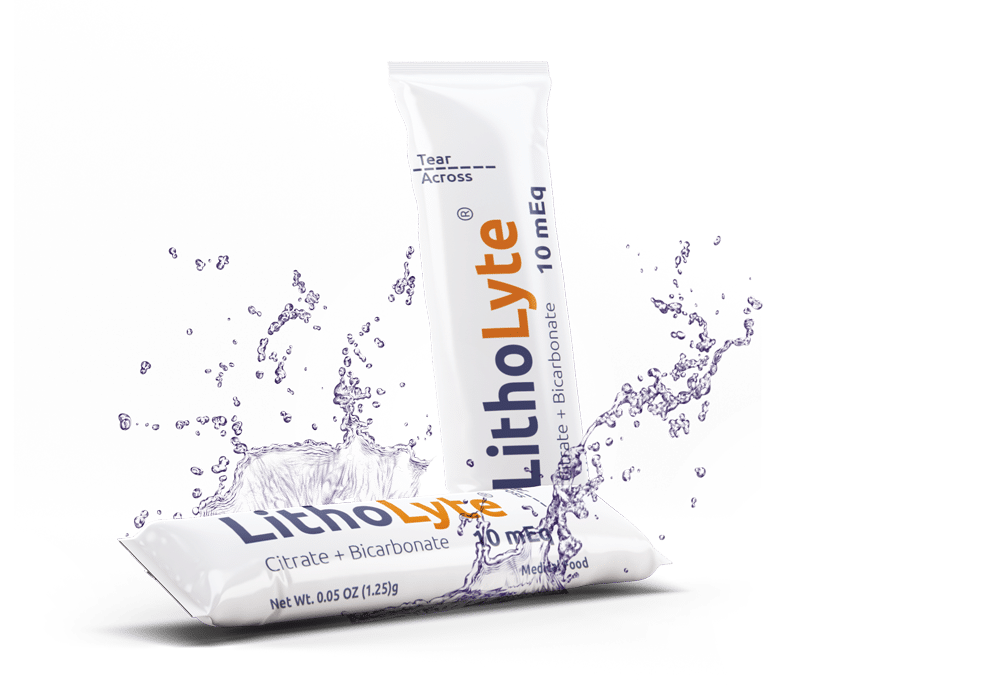 Request Clinical Starter Kit
Delivered free to health care providers
8 Sample Packs
Prescription Pads
Patient Handouts
We're all about dietary citrate.
It's well established that restoring urinary citrate to normal levels is crucial. Our aim is to create products that take the uncertainty out of citrate management. Utilizing common organic alkali such as citrate and bicarbonate, we're formulating products with a reliable citraturic response. Every LithoLyte product contains 10 mEq of citrate or citrate equivalents. 
10 mEq Citrate + Bicarbonate


The LithoLyte Water Enhancer is our flagship product recommended for everyday use. For added flexibility, we've formulated other LithoLyte products that also deliver 10 mEq citrate without adding flavor or calories in their respective beverages.
6 mEq Potassium citrate, 3 mEq Magnesium citrate, 1 mEq Calcium citrate. Calcium and magnesium have been shown to prevent oxalate absorption in oxalate-laden beverages.
Juice & Sports drink enhancer
6.5 mEq Potassium citrate, 3.5 mEq Magnesium citrate. No added sugar or calories. This enhancer contains no sodium since most sports drinks do.
4.5 mEq Magnesium citrate, 2.5 mEq Potassium citrate, 2.5 mEq Calcium citrate, 1 mEq Sodium Bicarbonate. All in a single-serve k-cup. 100% Arabica, Medium-roast coffee.
"How much healthier would our patients be if all had access to 20-40 mEq of dietary citrate a day?
Health care providers will love
Skip the pharmacy | Skip the pills
LithoLyte is Non-prescription
where do I direct patients for litholyte ?
what is a dietary supplement ?
A dietary supplement is non-prescription and defined as a "product taken by mouth that contains a dietary ingredient to supplement the diet"; in this case, citrate.
How much sodium is in The Litholyte water enhancer?
LithoLyte contains 60mg of sodium, or 3% of the recommended daily value.
Will the sodium cause hypercalciuria?
This effect is overstated in the literature. In fact, studies show up to 60 mEq sodium citrate a day did not cause a rise in urinary calcium.
How much magnesium is in the litholyte water enhancer?
LithoLyte contains 30mg of magnesium, or 7% of the recommended daily value.
will the magnesium cause GI upset?
Unlikely. For comparison, a 10oz bottle of magnesium citrate for laxative use contains approximately 1,700mg of magnesium.
Create a LithoLyte.org account by clicking on Login|Register. Follow the prompts to create an account. After doing so, you'll be redirected to a new "my account" page with ordering information. All supplies are delivered free of charge. 
What if my patient doesn't have internet access?
Your patient can call (618) CITRATE (248-7283).
Your office staff can complete a short order form for your patient and fax it to us. We'll take care of the rest. Download the fax form here.
Request More Info + Office Lunch.
10 mEq Citrate + Bicarbonate.
For more information:
(618) CITRATE | (618) 248-7283